Read Time:
3 Minute, 29 Second
There are several types of inground pools you can consider for your backyard. Here are some popular options: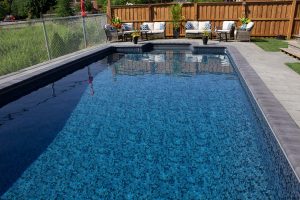 Concrete/Gunite Pools: These are highly customizable and durable pools that are constructed on-site using a mixture of concrete and sand. They can be designed in various shapes and sizes to suit your preferences.
Fiberglass Pools: These pools are pre-manufactured in a factory and then installed in your backyard. They offer a smooth surface and come in a range of shapes and sizes. Fiberglass pools are known for their quick installation and low maintenance requirements.
Vinyl Liner Pools: These pools have a custom-made vinyl liner that is installed over a steel, aluminum, or composite panel structure. They offer a wide variety of design options and are relatively more affordable compared to concrete or fiberglass pools. However, the vinyl liner will need to be replaced every 5-10 years.
Natural Pools: Also known as eco pools or swimming ponds, these pools use plants and biological filters instead of chemicals to keep the water clean. They provide a more natural and environmentally friendly swimming experience, resembling a pond or a lake.
Saltwater Pools: These pools use a salt-chlorine generator to produce chlorine from salt in the water. Saltwater pools are known for their gentle and more natural feel, and they require less maintenance compared to traditional chlorine pools.
Infinity/Overflow Pools: These pools create a visual effect of water extending to the horizon by having one or more edges where the water overflows into a catch basin or a secondary pool. They offer a stunning and luxurious look, particularly when overlooking a scenic view.
Lap Pools: If you're interested in fitness and swimming for exercise, lap pools are a great option. They are long and narrow, designed for swimming laps, and are ideal for small backyards or individuals with limited space.
When choosing a pool, consider factors such as your budget, available space, desired shape and size, maintenance requirements, and aesthetic preferences. Consulting with a professional pool contractor can help you determine the best type of inground pool for your backyard based on these considerations.